The DVLA Car registration auction has now concluded, with some registrations selling for huge money.

The highest-priced number plate to sell was PAT 3K for a total selling price of £100,244.84 which would have gone to a watch collector or watch trader for the watchmaker Patek Philippe with the watches normally selling for hundreds of thousands of pounds, Patek Philippe Watches For Sale.
The 4th highest selling number plate was 35 BUG selling for a total price of £42,041.12 which is perfect for the Bugatti Type 35 is one of the most successful racing cars of all time. And deservedly so: the French manufacturer's open-top sports car secured over 2,000 victories between 1924 and 1930. Today, the Type 35 is a legend in international motorsport. Click the link to see the info on the Bugatti Type 35 Info
The 9th highest selling number plate was K111 NNG selling for a total price of £29,059.88 we are sure Mr or Mrs King will be happy with their purchase. If this was out of your budget we have K123 NGY in stock at a fantastic price of £1495 + Vat + £80.
The 10th highest seller was MUD 111Y selling for a total price of £28,340.84 we think this will go on a very muddy Land Rover Defender or similar.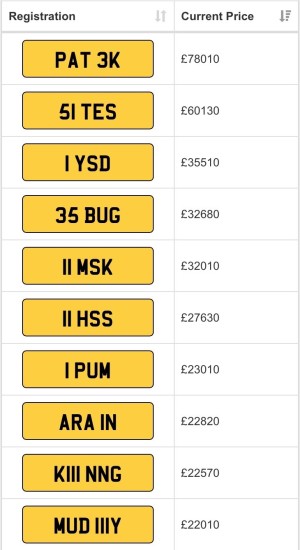 The registration G63 TOY sold for a total price of £21,920.84 which will go on a Mercedes G63 AMG.
Another car-related number plate to sell was TE22 SLA for a total price of £11,032.52 This will go on a 2022 registered Tesla.
We have the next DVLA Auction number listed on our website DVLA Auction to view them, which will run from Wednesday, 22 Jun 2022 10:00 AM and ends on Tuesday, 28 Jun 2022. Contact us to bid on your behalf, we also can request registrations to be included in the auction.
Check out our featured private number plates page for all our new stock and customers' number plates.