It doesn't matter if you are a car enthusiast or you are just looking for a nice day out with the family; the UK is home to some of the world's best car museums.
From national motor museums to classic car museums, these attractions boast exhibits displaying old and new models as well as offering other fun activities that the whole family can get involved in.
In this guide, we've compiled a list of the best car museums in the UK that you can visit and shared some information about what you can see at each one.
Top car museums in the UK
British Motor Museum
Beaulieu National Motor Museum
Lakeland Motor Museum
Haynes International Motor Museum
Cotswold Motoring Museum
British Motor Museum
Trip Advisor rating: 4.5/5

The British Motor Museum offers a fascinating insight into the motor industry in the UK. Its interactive exhibits make it an excellent attraction for the whole family to enjoy.
It is home to the world's largest collection of historic British cars, and some of the displays you can see include sports cars, a Time Road exhibit which you can walk along to see how cars have evolved, as well as dedicated zones on Motorsport, Design & Concepts, Jaguar, and Land Rover. You can also see the 'Making British Cars' exhibit and see how influential the motor industry has been over the years.
Emma Victoria Stokes, who runs her own blog, talks about how she loved her visit to one of the most prominent car museums in the UK: "Ranging from motorsport displays to timeless pieces, an exhibition gallery and specific Jaguar/Land Rover sections, carve out a few hours of your time and be sure to visit the family activity station to collect explorer packs and activity sheets to keep the whole family entertained. Free tours are also available (taking place at 11am + 2pm daily) and are 45 mins in duration. Guests of all ages are welcome to explore various collections and cars and to have the best time soaking up motor knowledge."
Beaulieu National Motor Museum
Trip Advisor rating: 4.5/5

Located in the heart of the New Forest National Park, the Beaulieu National Motor Museum is an award-winning family attraction with more than 800 years of heritage and it has been in the ownership of the Montagu family for over four centuries.
Beaulieu is one of the best classic car museums in the UK, and it is home to more than 250 historic cars and bikes from all eras of British motoring history.
The museum isn't the only attraction, as you can explore the Victorian Palace House and the surrounding gardens and grounds the same day you visit the car museum.
Deeptha and Bhavin, founders of The Globe Trotter blog, visited the Beaulieu car museum and told us about their visit.
"The motor museum houses more than 250 vehicles - cars, motorcycles, F1 racers, commercial vehicles and even famous vehicles like the 1961 Bluebird and the Chitty Chitty Bang Bang. I also spotted three cars that my grandfather had in the 1940-1960s. In addition to the vehicles, there is a large collection of objects and photographs, all telling the story of motoring in Britain. If you are a motor enthusiast, then I would recommend visiting the museum if you are in New Forest."
Lakeland Motor Museum
Trip Advisor rating: 4.5/5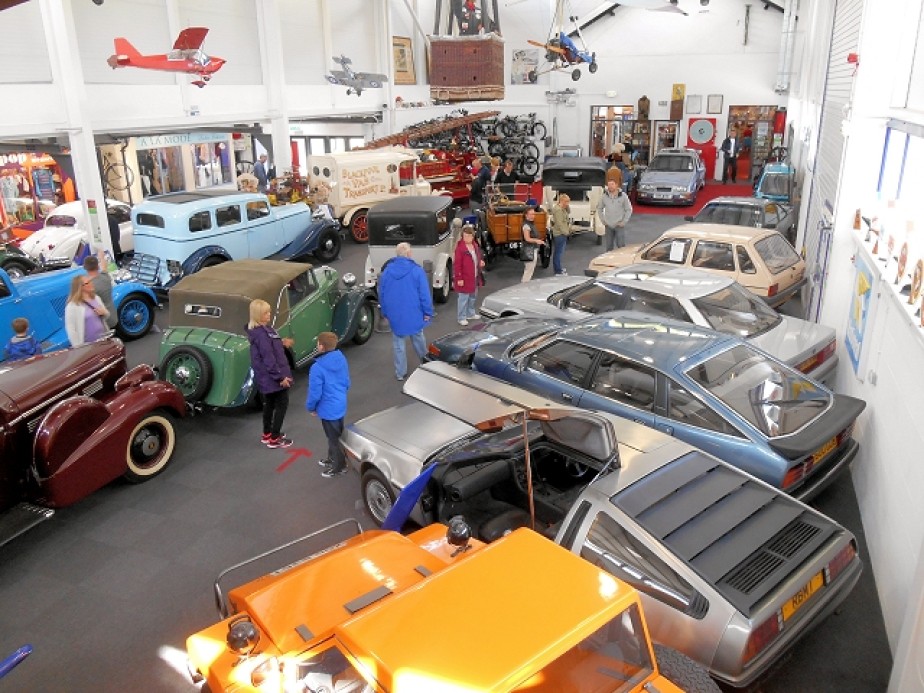 Image credit:David Dixon
At the world-famous Lakeland Motor Museum, you can explore over 30,000 exhibits that range from motor cars and automobilia to motorbikes and bicycles.
Some vehicles you can see on display at the museum include a 1927 Dennis 250-gallon Fire Engine, a 1972 Ford Escort Mexico 1600, and a Jaguar XK140 Fixed Head Coupe.
Picturesquely housed in what was once a mill in the middle of the Lake District, the attraction is much more than just a motor museum. You can also enjoy eating at a riverside café, see period shopping displays and learn about the local history.
Rebecca Sharp, the travel blogger who runs the Almost Ginger site, has talked about her experience of the Lakeland Motor Museum, particularly the display dedicated to Sir Malcolm Campbell, who tried to break the land speed record:
"In a separate building, the Lakeland Motor Museum has a fantastic exhibition dedicated to the work of Sir Malcolm Campbell and his son, Donald Campbell.
"If you've never heard of Donald Campbell and the Bluebird machines, you're probably not from Cumbria. Both were obsessed with breaking land, air and water speed records. And, all the vehicles were named some variation of Bluebird (Bluebird K7, for example)."
Haynes International Motor Museum
Trip Advisor rating: 4.5/5

The Haynes International Motor Museum is home to over 400 motor vehicles from the late 1800s through the significant motoring periods of the 1950s and 1960s, to more modern supercars.
There are 18 different exhibition areas which you can explore, and these include the Williams F1 zone, a Ferrari area, The American Dream exhibit and the British and World Motorcycles display.
If you decide to visit the Haynes International Motor Museum, you should check out their events calendar, as different events occur throughout the year.
Cotswold Motoring Museum
Trip Advisor rating: 4.5/5

The Cotswold Motoring Museum explores the history of 20th-century motoring, and its collection is full of rare vehicles and classic memorabilia. So whether you are a motorhead or not, you will get a nostalgic glimpse into life on the road the way it used to be.
There are five different exhibits that you can explore, and these are:
The Mill Gallery – Bulging with excellent vehicles, caravans, and other motoring memorabilia, including children's TV star Brum.
The Blacksmith's workshop - You can walk through an authentic blacksmith's workshop and take in the sounds and smells of a world that was heading towards the new and exciting age of motoring.
Windrush Alley – Here, you will get to look at the world of motoring from street level, where 19th-century bikes like the penny-farthing share the road with horse-drawn carriages and cars.
Jack Lake's Garage – A put-together recreation of one of those small country garages that opened up and down the land to serve the needs of the early motorist.
Paved Paradise – This exhibit gives you an insight into the funky 1960s and 70s, and you will see a variety of nostalgic cars.
Other car museums you can visit
This guide looks at some of the best car museums in the UK and shares some of the highlights you can see at each museum. You never know; visiting one of these museums might make you consider buying or selling some auto memorabilia you have.
Here at Right Reg, you can buy or sell a private number plate, and we can assure you that we will get you the best price and complete the purchase or sale for you. If this is of interest, you can contact us at 01526 353111.
For more tips, guides, and advice, make sure to visit our news page.